Living as equals among equals with disability
In part 2, Paul Calvert spoke with Kalman Samuels from Shalva about the types of disability their clients have, their successful volunteer programme, and the difference their disabled clients are making in the world.
Paul: What sort of disabilities do the children have here?
Kalman: We have every kind of disability you can possibly think of. This begins with Down Syndrome, which is quite prevalent, Fragile X, Autism, and Cerebral Palsy. There is almost nothing you can mention, even things like Progeria, which are terminal illnesses. We don't see that often, but we have our third and fourth case since we opened. Sadly these children will not make it past 24-25 years of age. We also have children that are challenged in severe situations with wheel chairs. All really difficult situations from a young age so we are caring for everything that you can think of.
Paul: You must need a lot of volunteers. Do you have a lot of volunteers, and do you have people coming in instead of going into the army?
Kalman: They do. We have an amazing set of volunteers. We could not operate this place without the army of volunteers that come.
The volunteers are high school kids who come once a week. They'd love to come more, but we can't get in the way of their education. They fall in love and they are in the after school programme. They are working with peers, so it is amazing inclusion, where healthy typical young people are working with children of their age. We have about 180 a week.
Over and above that there's an institution in Israel that is basically a Peace Corp. It's designed for young women where there is a mandatory army service, but they do not want to go to combat, yet they want to serve their country. So they serve in a Peace Corp. They serve for two years and they are recognised by the army.
They serve in things like hospitals and Shalva. We are one of the biggest partners in this programme in the area that we work in. We have 75 such young ladies and six young men, who for medical reasons couldn't go to the army, but wanted to do volunteer work. They are a source of hands on. We train them very quickly and very thoroughly all through the year, so they become literally semi-professionals. They are 19 year-olds with endless energy and help make this place work.
I would not be able to afford what we do without the addition of the volunteers and the Peace Corp.
Independent of that we have almost 400 employees, so it's a large 12 million dollar budget. The Government gives us fees for services and with some income we generate about 6 million dollars, but I have to make sure that I raise the other 6 million dollars.
Paul: Do the clients that come here pay to be here?
Kalman: The clients all pay.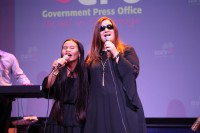 The nice thing is that the Government gives us fees for services for every child almost, in this programme. So if for example in the afternoon programme, just throwing out numbers, the Government gives us $300 a month for the child, now that is a joke, because it costs us probably $10,000 a year, but the family is assessed and billed by the Government and they participate at the level of their income for what the Government is giving. So every family is paying, but because of the fact that they are paying the Government and they are not paying directly to us, and we don't have to get involved in finances, it creates an extraordinary positive environment of love rather than of anything business related.
Click here to read the rest of the article on Cross Rhythms.
Sign up for KNI weekly updates
Transforming the lives of children with disabilities and their families in Israel
In part 1, Paul Calvert spoke with Kalman Samuels, the co-founder of Shalva, about his son Yossi's injury, and how that led to the founding of the most advanced centre in Israel for people with disabilities.
Paul: What is Shalva?
Kalman: Shalva is an organisation that my wife Malki and I set up 28 years ago, as a result of our son Yossi being injured by a faulty DPT vaccine in Jerusalem at the public health centre, when he was 11 months old.
Shalva means peace of mind and as I will explain, that is what we try to do.
Paul: Please could you tell me more about why were you started?
Kalman: Many children were injured in a six month period here in Israel, until they finally got rid of it.
Our life changed, but let me go back a little bit. I come from Vancouver, Canada, a totally non-religious kid. As a matter of fact my first political act in life was sitting on my mother's shoulders on a main street in Vancouver, Canada, waiting for the new young queen to come to initiate the British Empire Games in 1954. It is funny how London and England is very much a part of British Colombia.
At the age of 18 I was on my way to France to study. I had Basketball scholarships and my mother asked me to visit Israel for two weeks on route. So I first went to England, and then came to Israel for two weeks.
Something struck me here. Actually I was standing on a beach just south of Eilat and what was Egypt, and across the Gulf of Aqaba I saw Saudi Arabia to my right, and directly in front of me I saw Jordan and to my left of course was Israel. I suddenly started to think about the fact that Vancouver is an extraordinary place to grow up, but maybe it isn't really the centre of the world, the way I had thought it was growing up. Maybe this place with its civilisations going back thousands of years, is something I should be studying more seriously.
So I changed my plans and decided I would take the summer and study in Israel, and try to understand what was getting at me. A summer turned into another year and I slowly became religious. I really realised what I wanted to do was study and become a Rabbi and be knowledgeable in our texts.
I met my wife Malki on route and got married and had a beautiful daughter and a beautiful son, Yossi.
As I mentioned, he was injured. When that happened, our young lives got flipped on their heads. There was no-one who could really help us.
To make matters worse, the medical world, the Government, shut down any medical information that was available, because it was vaccine related. So we couldn't even get clear medical advice.
Click here to read the rest of the article on Cross Rhythms.
Sign up for KNI weekly updates
Clashes erupt on Temple Mount on Jerusalem Day
Israelis celebrated the 52nd anniversary of Jerusalem's reunification under Israeli rule on Sunday while clashes broke out on the Temple Mount between Muslims and Jews who were allowed up to the site.

Jerusalem Day tends to be contentious and police were bracing for violence. Waving Israeli flags, tens of thousands of people took to the streets for the annual parade. Many of them enter Damascus Gate and march through the Muslim Quarter, singing and dancing, which Muslims view as antagonistic.

The march passed without incident, but police entering the Temple Mount were met by hundreds of rioters "throwing chairs and other objects at police forces," according to the Jerusalem police spokesperson.
Five rioters were arrested. Police quelled the rioting and some 120 Jews were allowed to enter the Temple Mount, built on the remains of the Second Temple. The rest of the day passed without incident.

Jews and tourists are generally forbidden to enter the compound during the last days of the Islamic fasting month of Ramadan. The police, however, decided on Sunday morning to allow the entrance of Jews specifically for Jerusalem Day.

Jordanian, Palestinian and left-wing Israeli officials slammed the provocative decision. The Jordanian Foreign Ministry said in a statement that it "unequivocally condemns the continuation of Israeli violations against Al-Aqsa, by the break-in of extremists [to the Temple Mount] in a defiant manner with the backing of security forces." Jordan is the custodian of the holy site.

Jerusalem Day is the commemoration of the reunification of Jerusalem as well as Israel's capture of the Temple Mount in the 1967 Six-Day War. The day is nationalistic in nature and not a religious holiday.

President Reuven Rivlin used the occasion to thank U.S. President Donald Trump for recognizing Jerusalem as Israel's capital and relocating the embassy there last year.

"This is the time to thank President Trump and the American people for their steadfast friendship and for his groundbreaking decision," he said.

Prime Minister Benjamin Netanyahu spoke about how much Jerusalem has changed since 1967.

"We are building it, strengthening it, worrying about its future and developing it into a prosperous city that will not only be a focal point for spirituality and the renewal of Jewish heritage, but also a city that is being renewed with global technology," he said.

The Kehila News Staff is a team of Israeli believers in Yeshua.
Sign up for KNI weekly updates
Knesset members vote to dissolve, new elections set for Sept. 17
Israelis will be going to the polls for the second time in half a year after Prime Minister Benjamin Netanyahu failed to form a government with enough coalition members, an unprecedented set of events even for Israel's volatile political system.

At the heart of dissolving the Knesset was the refusal by one secular party to join a coalition with ultra-Orthodox parties and their disagreement on passing a bill to draft Haredi men into the Israeli army. Yisrael Beytenu leader Avigdor Liberman withheld his party's five mandates that would've given Netanyahu a solid majority of 65 seats in the parliament.

The midnight vote on Wednesday to dissolve the Knesset received 74 votes in favor and 45 against.

Netanyahu immediately lashed out against Liberman, blaming him for the government's collapse and – in the first political salvo of the September elections – tossing the ultimate insult by calling him a left-winger.

"Avigdor Liberman is now part of the left. He brings down right-wing governments," Netanyahu charged.

Liberman accused Netanyahu of "capitulating to the ultra-Orthodox."

"We are natural partners for a right-wing government, but not for a government based on Jewish law," he said.

Liberman's party is staunchly right-wing, but is secular and hence is at odds with the religious parties who push for Jewish law, halacha, to supercede Israeli law.

"I am not against the ultra-Orthodox community," Liberman emphasized on Facebook. "I am for the state of Israel. I am for a Jewish state but against a halachic state."
The ultra-Orthodox parties fear military service will lead their young men into secularism. Netanyahu depends on their political support sp refused to press them on the issue.

Another issue that prevented a coalition agreement is a proposed law that would serve to protect Netanyahu from indictment in light of corruption charges against him. While the religious parties agreed to sign it, the opposition parties refused refused to be part of a government with a prime minister facing indictment.

This new campaign season and political uncertainty will most likely overshadow U.S. President Donald Trump's plans to rollout the "deal of the century," a proposed peace plan for Israelis and Palestinians. Trump's Middle East envoy's Jared Kushner and Jason Greenblatt arrived in Israel on Thursday amid the political chaos.

The administration is expected to rollout a portion of its plan at a conference in Bahrain scheduled for next month. This part of the plan is expected to lay out economic incentives for the Palestinians.

The Kehila News Staff is a team of Israeli believers in Yeshua.
Sign up for KNI weekly updates
Haredi conscription law about to foil Netanyahu's attempt to build a coalition
Ultra-orthodox Jews clash with Israeli police in a protest over Israeli conscription law, November 2018 (Photo: screenshot YouTube)
With the deadline looming to form a government by tomorrow, Prime Minister Benjamin Netanyahu was preparing instead to go to new elections as he has been unable to form a coalition.

Since the April 9 elections, where Netanyahu emerged the clear winner, he appeared on target to form a right-wing coalition comprised of 65 Knesset seats including several religious parties on his side (United Torah Judaism, Shas and the Union of Right-Wing Parties) plus two secular right-wing parties (Kulanu and Yisrael Beytenu).

However, he has failed to meet the vastly divergent demands of all the smaller parties he's pulling together. Most of this coalition is made up of ultra-Orthodox Jews [in Hebrew "Haredim"] who are opposed to mandatory military service. But Avigdor Liberman, head of Yisrael Beytenu party, has made his participation in the coalition contingent upon passing mandatory army conscription for the Haredi into law.

"After a failed attempt to form a government under the ideal conditions, we expect the prime minister to put more pressure on the haredi parties and the rabbis who stand behind them," Yisrael Beytenu said.

Liberman's withholding of his five mandates from the coalition could spell new elections for the country.

According to the Jerusalem Post, this issue of demanding that the ultra-Orthodox serve in the army – as the rest of israelis do – is nothing new.

"The matter has been on the political table for 20 years, since the Tal Commission was formed to examine the historical, blanket exemption haredi yeshiva students received from military service since Israel's establishment – and more or less decided to continue that exemption," the paper explained.

Netanyahu's Likud party has proposed compromises for both sides, but Liberman appears to be unswayable.

"I am now making my last effort to form a right-wing government and to prevent unnecessary elections," Netanyahu said in a video on Sunday. "I gave the partners a proposal for a solution. It is based on the principles established by the army and on the data that the army has established. There is no reason to reject this."

If the Knesset is not dissolved after a vote later today or tomorrow, President Reuven Rivlin will have to decide whether to ask another Knesset member to form a coalition.
Likud won 35 seats in the April 9 election. The two ultra-Orthodox parties, Shas and United Torah Judaism, each won eight seats. Moshe Kahlon's center-right Kulanu won four. And the hawkish Union of Right-Wing Parties won five.

As the Jerusalem Post summed up: "Soon we'll know how this game of chicken between haredi parties and Yisrael Beytenu will end, either with a dissolved Knesset and Israel going to vote twice in one year, or with the unsolvable puzzle of haredi enlistment pieced together – at least somewhat – after 20 years of political debate."

The Kehila News Staff is a team of Israeli believers in Yeshua.
Sign up for KNI weekly updates